2022 Ford Bronco

The Ford Bronco and Bronco Sport SUVs are both Built Wild® and offer unique off-roading experiences. Discover how each SUV is specially designed to help you cut your own path.
Discover Two New Bronco SUVs
There are two special-edition Ford Bronco® models being added to the stable, Bronco Raptor™ for high-speed off-roading and Bronco Everglades™ which features a number of factory-installed accessories to help you confidently explore far off the beaten path.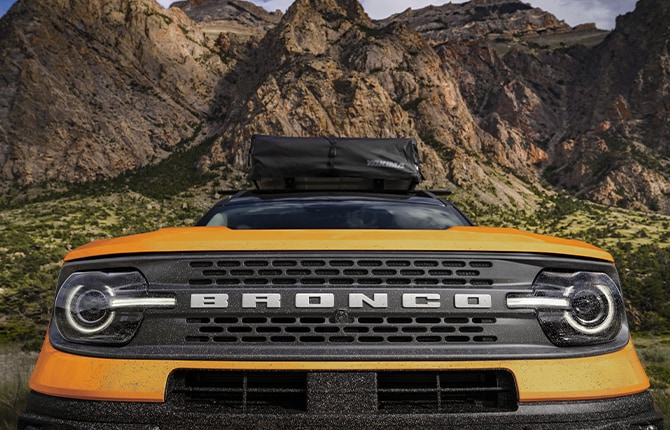 Explore Bronco
Search Inventory
VITAL STATISTICS
4-Door Only
5-Person Seating
Max Available 65.2 cu. ft. Cargo Capacity*
Wheelbase: 105.1" [Tool Tip: Distance between the front and rear axles.]
Track Width: 63.4" (Front); 62.8" (Rear) [Tool Tip: Distance between the center line of each of the two wheels on the same axle.]
Available Max Ground Clearance from 7.8" - 8.8" (Varies by Trim and Options) [Tool Tip: Distance between the lowest point of a vehicle body/chassis and the base of the tire.]
Available EPA-estimated rating of 25 City/28 Hwy MPG, 1.5L EcoBoost® Engine**
Available 235/65/R17 Falken Wildpeak A/T Tires
Body Frame: Unibody [Tool Tip: Vehicle body and frame are in a single piece, typically resulting in a lighter design that promotes efficiency.]
Standard 4x4 with up to Seven Available G.O.A.T. Modes™ (Goes Over Any Type of Terrain) with Available Twin-Clutch Rear-Drive Unit with Rear Differential Lock Feature [Tool Tip: Terrain Management System™ that lets you choose the right driving mode to fit ground conditions.]
2022 Bronco Sport SUV
The Bronco Sport can be your ultimate backcountry guide with four unique series engineered to match the way you experience the outdoors. Your adventure begins in a Bronco Sport and it never ends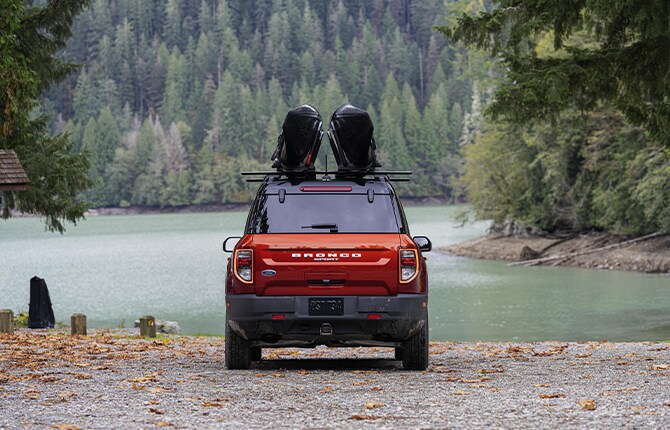 Explore Bronco Sport
Search Inventory
VITAL STATISTICS

Available in Both 2- and 4-Door
Max 5-Person Seating (4-Door)
Max Available 83 cu. ft. Cargo Capacity (4-Door)*
Wheelbase: 116.1" (4-Door); 100.4" (2-Door) [Tool Tip: Distance between the front and rear axles.]
Track Width: 65.0" - 73.2" (Front); 65.0" - 73.6" (Rear) [Tool Tip: Distance between the center line of each of the two wheels on the same axle.]
Available Max Ground Clearance from 8.3" - 13.1" (Varies by Trim and Options) [Tool Tip: Distance between the lowest point of a vehicle body/chassis and the base of the tire.]
Available EPA-estimated rating of 20 City/21 Hwy MPG, 2.3L EcoBoost® Engine**
Available 35" Tires with Sasquatch® Package
Body Frame: Body-on-Frame [Tool Tip: Separate vehicle body mounted on a frame for high ground clearance and excellent off-road capability.]
Standard 4x4 with up to Seven Available G.O.A.T. Modes™ (Goes Over Any Type of Terrain) with Available Front and Rear Locking Differentials [Tool Tip: Terrain Management System™ that lets you choose the right driving mode to fit ground conditions.]